The Bell story
Education is at the heart of everything we do. In 1955, we opened our doors with one vision – a world united by intercultural understanding. We believe in the power of language education to transform lives, remove barriers and unlock the world for our students.

Bell was founded by Frank Bell, a University of Cambridge graduate, with a love of languages and a powerful vision.
Frank's inspiration came from his time as a prisoner of war during the Second World War. In the harsh conditions of the camp, he taught his fellow prisoners Spanish and French, a simple act of defiance that quickly led to the creation of a 'secret university', which taught a broad range of subjects.
After the war, Frank Bell returned to England. Reflecting on his experiences, he realised that the route to international co-operation and understanding lay in learning. This led him to open his first language school in Cambridge, which still operates today as Bell Cambridge.

Learn the Bell Way
Our unique learning approach – The Bell Way – ensures you benefit from a learning experience that sees results.

Your path to success
Our approach to learning – The Bell Way – ensures that every course at Bell is consistently delivering a robust educational experience.
It has been influenced by over six decades of experience and shaped by an Emeritus Professor from the University of Cambridge. It will make you a better learner, build your confidence and ensure you achieve your learning goals.
Based on six core learning principles, The Bell Way underpins all our courses in line with its objectives, so it's worth exploring how we specifically apply our approach to your young learner, adult, university pathway, or teacher training and development course.
All our permanent teachers are DELTA qualified and are dedicated to continually innovating their classroom teaching to maximise the impact of learning on students.
A global community of learners
In an increasingly globalised world, we believe a diverse nationality mix is so important to your overall learning experience. At Bell, we create a global community of learners – from different lifestyles, cultures and traditions – all dedicated to transforming themselves into more confident, capable and empowered individuals. Just like our founder, Frank Bell, we believe in the power of intercultural awareness and collaboration. When you study at one of our schools, you will see that we harness this power through everything we do. You will learn from each other, support each other, and (hopefully) make lasting international connections.
We are proud to welcome students from over 75 different countries or territories.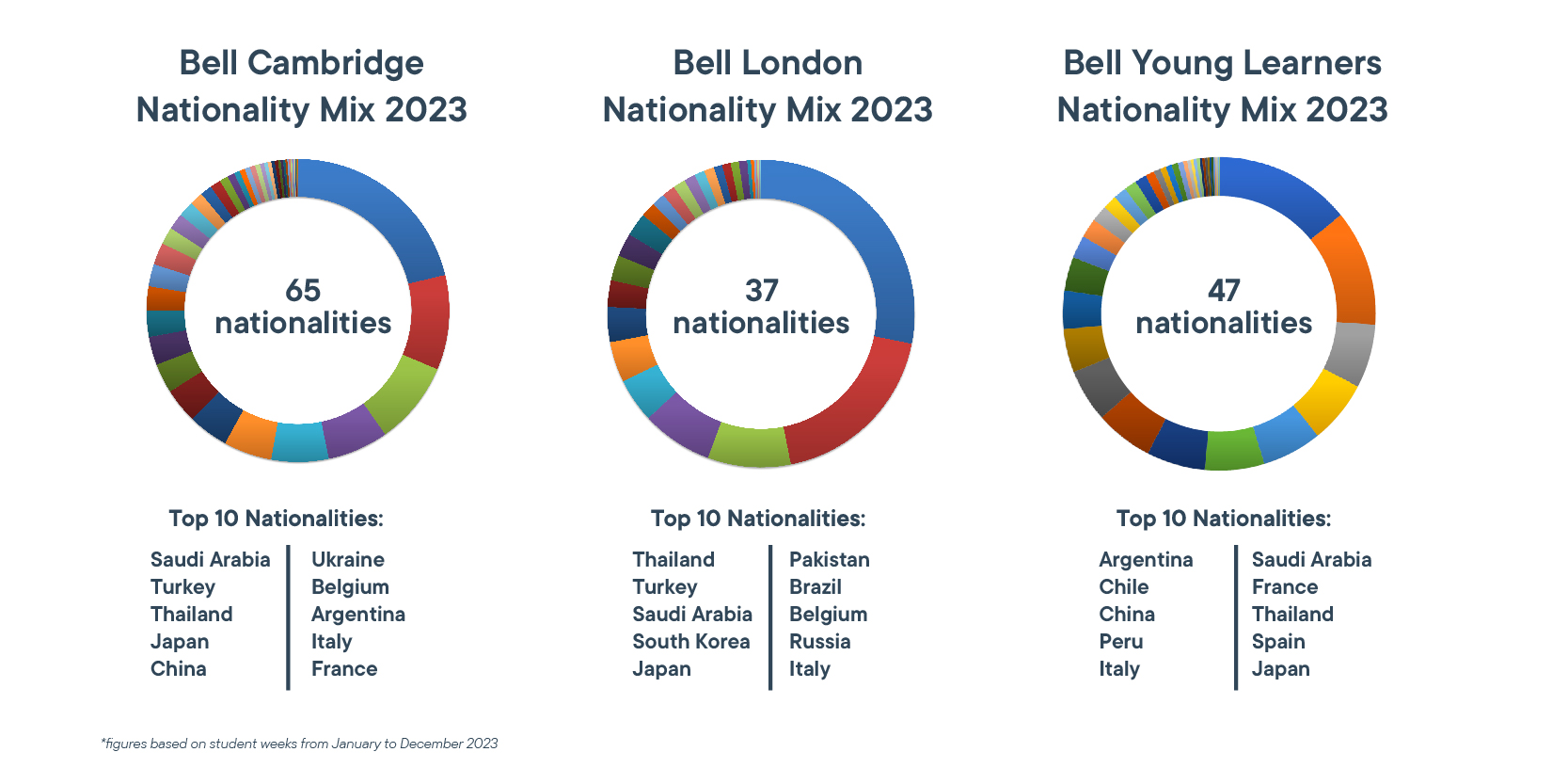 Quality & impact
We are regularly reviewed by independent industry regulators and accrediting bodies who conduct a comprehensive assessment of our schools and ensure we achieve excellence across all that we do.